What is ISO27001 ?
ISO 27001 is a well-recognized international standard in Information Security Management. Many organizations choose to implement Information Security Management System (ISMS) based on ISO 27001 standards, including the Office of the Government Chief Information Officer (OGCIO), HKSAR. Also, ISO 27001 certification is a recognized proof of ISMS implementation in major security compliance programs including the followings:
General Data Protection Regulation (GDPR) from European Union (EU),
Cyber Security Law Compliance from Macau Government 澳門特別行政區 網絡安全法
What is ISMS: ISMS is a systematic approach consisting of (i) processes, (ii) technology and (iii) people that helps us to protect and manage our business information through effective risk management.
Current Version: ISO/IEC 27001:2013 is the most current version of the standard and incorporates changes made in 2017. The previous version is ISO/IEC 27001:2005
Certification: ISO 27001 Certification is [1] detailed assessment of an organization ISMS (implementation & operation) by an independent Certification Body (such as BV, SGS, BSI, etc.) and [2] the issuance of an ISO 27001 certificate of compliance.
A 27001 certificate is usually issued for a period of three (3) years. A certified organization needs to perform satisfactorily in the surveillance audits conducted by the certifying body at annual basis (usually).
Key Steps in ISO27001 Certification
Gap Analysis:
Understanding of your organization and its context,
define certification scope of ISMS,
identify information security risks and risk owners,
assess existing information security practices viz-a-viz 27001 requirements.
Initial Review and Planning:
Review the findings of gap analysis by Senior Management,
conduct corresponding information security risks treatment,
establish a cross-functional information security team headed by a senior manager,
plan for 27001 implementations.
Documentation: Preparation of manuals, forms, etc.
Implementation: Implementation of the system as per manuals.
Company-wide Training: Training on 27001 requirements, ISMS documentation, good ISMS practices, internal ISMS audit, etc.
Internal Audit: conduct periodic internal audit(s) of ISMS implementation.
Initial assessment: Initial assessment by the chosen Certification Body & corrective actions on identified issue(s).
Final Assessment: Detailed assessment by the Certification Body and recommendation for certification.
Our ISO27001 Consultation Services
We provide consultancy service to facilitate & support our client's ISO27001 certification. With over 10-year ISO27001 implementation experience, we have effective and efficient mechanism to save our clients' time and money. Typical Scope of Work (SOW) involves the followings:
(1) Gap Analysis
Identify gaps between existing client's ISMS implementation against ISO 27001:2013 standards.
Provide Gap Closure advises & support to client for remediations.
Deliverable:

ISMS Gap Analysis Report against ISO 27001:2013 standard
(2) Ready-To-Use Documentation & Process for Compliance
Assist client to define proper ISO 27001:2013 scope statement
Assist client to define the certification Statement of Applicability (SOA)
Provide Proven & Ready-To-Use Policy, Standard, and Procedure documentation templates to client, and assist client's adoption.
Deliverable:

ISO 27001:2013 scope statement and Statement of Applicability (SOA) sample – source from successfully ISO27001 certified body
Ready-To-Use ISO 27001:2013 documentation template – source from our previous successful ISO27001 certification
(3) Training on ISO27001:2013 Certification & Maintenance
Provide training to client's Information Security Team for 27001:2013 certification & on-going maintenance
Deliverable:

Training Program on ISO27001:2013 Framework, Control Measures Introduction & Compliance Requirements
(4) Internal Audit (Pre-Assessment walk-thru)
Perform Internal Audit (as well as pre-assessment walk-thru) before official certification audit
Deliverable:

Internal Audit Pre-Assessment Audit Report benchmark against ISO 27001:2013 standard; identify any non-conformity for client remediation before official certification audit
(5) Onsite Support during official certification audit
Attend the official certification audit (to be conducted by client's selected Certification Body) & act as member of client's ISO27001:2013 certification team in facilitating the successful ISO27001:2013 certification
Our Strength & Toolbox
Proven & Ready-To-Use ISO 27001 ISMS Manual, Policy, Standard, and Procedure documentation templates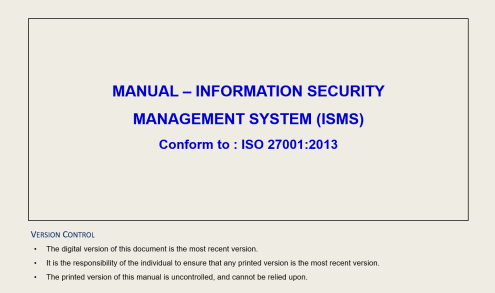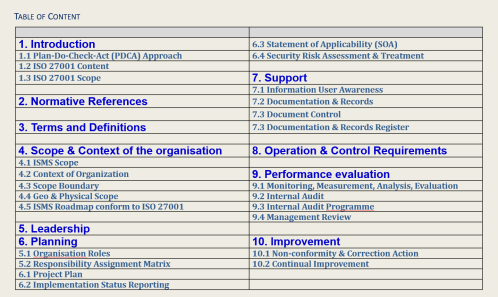 Ready to Use Responsibility Assignment Matrix with properly proposed security roles owner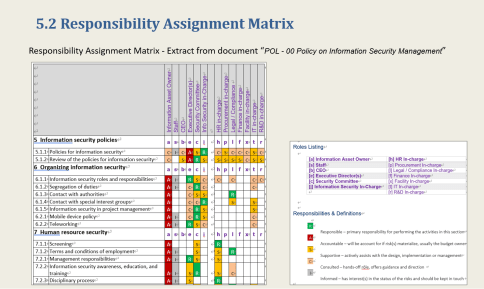 Proven ISO 27001 ISMS Implementation Process & Project Plan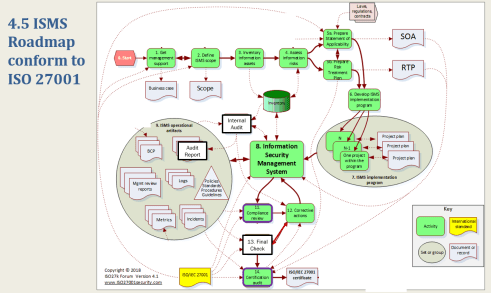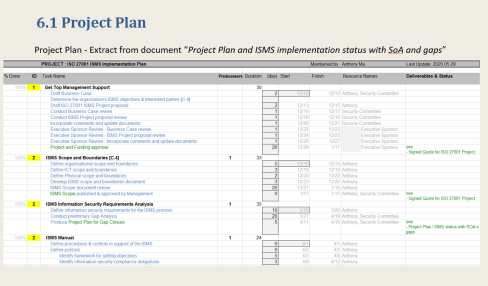 On-going Progress Tracking Dashboard for Status Reporting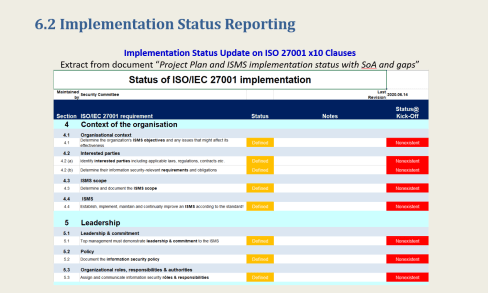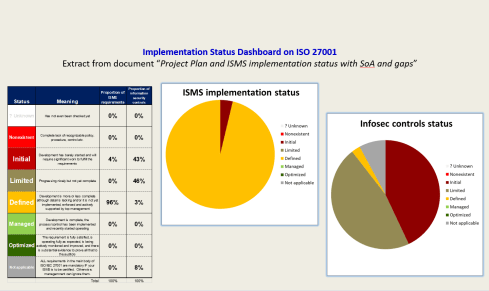 ISO27001 Content
ISO 27001:2013 is divided into ten clauses, an Annex and a Bibliography
ISO 27001:2013 Ten (10) clauses are:
Scope
Normative References
Terms and Definitions
Context of the Organization
Leadership
Planning
Support
Operation
Performance Evaluation
Improvement
ISO 27001:2013 Annex A is a vital part of the ISO 27001 standard, with Annex A5-A18 states all the reference controls of the ISO 27001 standard.
A5 Information security policies
A5.1 Management direction for information security
5.1.1 Policies for information security
5.1.2 Review of the policies for information security
A6 Organizing information security
A6.1 Internal organization
6.1.1 Information security roles and responsibilities
6.1.2 Segregation of duties
6.1.3 Contact with authorities
6.1.4 Contact with special interest groups
6.1.5 Information security in project management
A6.2 Mobile devices and teleworking
6.2.1 Mobile device policy
6.2.2 Teleworking
A7 Human resource security
A7.1 Prior to employment
7.1.1 Screening
7.1.2 Terms and conditions of employment
A7.2 During employment
7.2.1 Management responsibilities
7.2.2 Information security awareness, education, and training
7.2.3 Disciplinary process
A7.3 Termination and change of employment
7.3.1 Termination or change of employment responsibilities
A8 Asset management
A8.1 Responsibility for assets
8.1.1 Inventory of assets
8.1.2 Ownership of assets
8.1.3 Acceptable use of assets
8.1.4 Return of assets
A8.2 Information classification
8.2.1 Classification of information
8.2.2 Labelling of information
8.2.3 Handling of assets
A8.3 Media handling
8.3.1 Management of removable media
8.3.2 Disposal of media
8.3.3 Physical media transfer
A9 Access control
A9.1 Business requirements of access control
9.1.1 Access control policy
9.1.2 Policy on the use of network services
A9.2 User access management
9.2.1 User registration and de-registration
9.2.2 User access provisioning
9.2.3 Privilege management
9.2.4 Management of secret authentication information of users
9.2.5 Review of user access rights
9.2.6 Removal or adjustment of access rights
A9.3 User responsibilities
9.3.1 Use of secret authentication information
A9.4 System and application access control
9.4.1 Information access restriction
9.4.2 Secure log-on procedures
9.4.3 Password management system
9.4.4 Use of privileged utility programs
9.4.5 Access control to program source code
A10 Cryptography
A10.1 Cryptographic controls
10.1.1 Policy on the use of cryptographic controls
10.1.2 Key management
A11 Physical and environmental security
A11.1 Secure areas
11.1.1 Physical security perimeter
11.1.2 Physical entry controls
11.1.3 Securing offices, rooms and facilities
11.1.4 Protecting against external and environmental threats
11.1.5 Working in secure areas
11.1.6 Delivery and loading areas
A11.2 Equipment
11.2.1 Equipment siting and protection
11.2.2 Supporting utilities
11.2.3 Cabling security
11.2.4 Equipment maintenance
11.2.5 Removal of assets
11.2.6 Security of equipment and assets off-premises
11.2.7 Secure disposal or re-use of equipment
11.2.8 Unattended user equipment
11.2.9 Clear desk and clear screen policy
A12 Operations security
A12.1 Operational procedures and responsibilities
12.1.1 Documented operating procedures
12.1.2 Change management
12.1.3 Capacity management
12.1.4 Separation of development, test and operational environments
A12.2 Protection from malware
12.2.1 Controls against malware
A12.3 Backup
12.3.1 Information backup
A12.4 Logging and monitoring
12.4.1 Event logging
12.4.2 Protection of log information
12.4.3 Administrator and operator logs
12.4.4 Clock synchronization
A12.5 Control of operational software
12.5.1 Installation of software on operational systems
A12.6 Technical vulnerability management
12.6.1 Management of technical vulnerabilities
12.6.2 Restrictions on software installation
A12.7 Information systems audit considerations
12.7.1 Information systems audit controls
A13 Communications security
A13.1 Network security management
13.1.1 Network controls
13.1.2 Security of network services
13.1.3 Segregation in networks
A13.2 Information transfer
13.2.1 Information transfer policies and procedures
13.2.2 Agreements on information transfer
13.2.3 Electronic messaging
13.2.4 Confidentiality or non-disclosure agreements
A14 System acquisition, development and maintenance
A14.1 Security requirements of information systems
14.1.1 Security requirements analysis and specification
14.1.2 Securing application services on public networks
14.1.3 Protecting application services transactions
A14.2 Security in development and support processes
14.2.1 Secure development policy
14.2.2 Change control procedures
14.2.3 Technical review of applications after operating platform changes
14.2.4 Restrictions on changes to software packages
14.2.5 System development procedures
14.2.6 Secure development environment
14.2.7 Outsourced development
14.2.8 System security testing
14.2.9 System acceptance testing
A14.3 Test data
14.3.1 Protection of test data
A15 Supplier relationships
A15.1 Information security in supplier relationships
15.1.1 Information security policy for supplier relationships
15.1.2 Addressing security within supplier agreements
15.1.3 Information and communication technology supply chain
A15.2 Supplier service delivery management
15.2.1 Monitoring and review of supplier services
15.2.2 Managing changes to supplier services
A16 Information security incident management
A16.1 Management of information security incidents and improvements
16.1.1 Responsibilities and procedures
16.1.2 Reporting information security events
16.1.3 Reporting information security weaknesses
16.1.4 Assessment of and decision on information security events
16.1.5 Response to information security incidents
16.1.6 Learning from information security incidents
16.1.7 Collection of evidence
A17 Information security aspects of business continuity management
A17.1 Information security continuity
17.1.1 Planning information security continuity
17.1.2 Implementing information security continuity
17.1.3 Verify, review, and evaluate information security continuity
A17.2 Redundancies
17.2.1 Availability of information processing facilities
A18 Compliance
A18.1 Compliance with legal and contractual requirements
18.1.1 Identification of applicable legislation and contractual requirements
18.1.2 Intellectual property rights (IPR)
18.1.3 Protection of records
18.1.4 Privacy and protection of personal information
18.1.5 Regulation of cryptographic controls
A18.2 Information security reviews
18.2.1 Independent review of information security
18.2.2 Compliance with security policies and standards
18.2.3 Technical compliance inspection